I lost my registration key, can you send it again?
Just contact us with the details of your previous purchase (email and full-name). You will receive your key at no charge as soon as we have validated your old registration data in our database.
Useful keyboard shortcuts for PhotoInstrument
Decrease Brush Size
[
Increase Brush Size
]
Decrease Brush Hardness
Shift + [
Increase Brush Hardness
Shift + ]
Scroll image
Spacebar + drag
or numlock arrows
Zoom in, Zoom out
"+","-"
or mouse wheel
Switch zoom
"\"
or numlock "/"
How to upgrade PhotoInstrument
The quick answer is: just download PhotoInstrument latest release and install it.

Now, if you want more details:
Before upgrading, be sure you need to upgrade. Use Help->About menu to see which version of PhotoInstrument you are running, than compare it to the one in PhotoInstrument home page to see if you need to upgrade.
If you need to upgrade you usually just have to download the newer version installer and run it.
How Does It Work?
This Help Video will teach you how to use photo instrument perfectly.
Run help video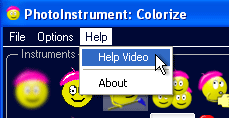 To stop the video, press 'Esc'.
How to Save Image?
The Trial Version becomes Registered when you enter the registration key and activate the program. Registered version can save your results as JPG, PNG, TIFF or others formats.
5 clicks to save an image as jpeg file